As North Europe's most progressive children's fashion fair, on August 5-7, 2015 CIFF KIDS unveiled the SS16 collections for children. More than 200 brands attended the show at Forum Copenhagen in Copenhagen. CIFF KIDS SS16 took place simultaneously with CIFF, RAVEN and Copenhagen Fashion Week. For the Spring/Summer 2016 photo campaignteamed up with kid's wear Magazine.
Since the relocation from Bella Center Copenhagen to Forum Copenhagen in January 2015, CIFF KIDS  had an increase of 22% in visitors from the January edition to this August edition.
"This growth in visitors reverberates exactly why moving CIFF KIDS to Forum Copenhagen was the right decision. The show has been allowed to grow and develop in its own universe and, with the new segment "Interior and Lifestyle", CIFF KIDS are now able to offer the visitors and buyers a brand portfolio suitable for the entire kids retail industry. We cannot wait to grow this even further for the show in February 2016." – Kristian W. Andersen, Fashion and Design Director, CIFF
For the edition of Spring/ Summer 2016, the fair housed several new brands and creative partnerships. CIFF KIDS introduced an exclusive lifestyle and interior segment which aimed to attract new visitors and customers.

Soft Gallery, Christina Rohde, Caroline Bosmans, Dr. Martens, BANGBANG Copenhagen, Bobo Choses, Wolf and Rita, Motoreta, Popupshop, Les Enfantines, Mini Rodini and Beau LOves are just some of the brands that were presenting their new collections at this summer's edition. Check out more brands here>>
Following the previous successes, CIFF KIDS once again staged a great colourful TREND SHOW in the garden in front of Forum Copenhagen. Styled by Helle Høgsbro, the show consisted of three different entries, all featuring different themes: the first, called Jeans inside out, was all about the 70ies, with flared jeans, knee high socks in sandals, fringes and good vibrations. The second entry – Ping Pong a la Benetton, brought back the 80ies with bright colors, daring combinations multicolored sneakers, laugher and fun. Finally, Skirtboarders on Venice beach ended the show with skateboards, pastel colors, soft ice and happy nineties – all that the 90ies is about. The team behind the show was Camilla Klee for production and Helen Dolhmann for choreography.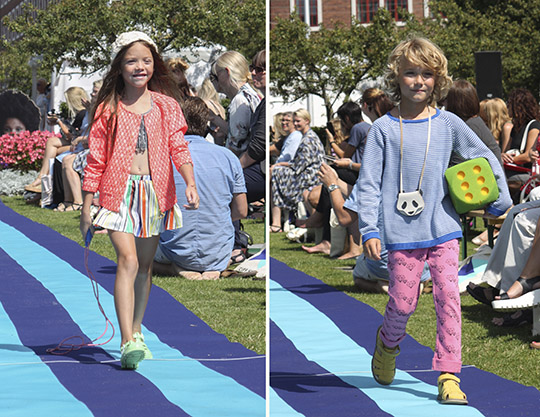 With numerous special projects, collaborations, speaker program and trends shows, CIFF KIDS demonstrate again the ability to innovate and elevate.
Pej Gruppen, the Scandinavian trend institute, hold speeches about today's fashion industry trends, news and successful businesses and on the upcoming trends within the kids' related industries.
Spring and summer 2016 marks a time where design and fashion become holistic. Technology and nature move along the same path, transdisciplinarity plays an important role, all corners of the world are explored, and feelings and senses are in focus. The season was presented through four trend themes by Pernille Kirstine Møller.
Kristine Mandsberg in collaboration with kid's wear magazine curated the new trend area. Kristine worked with the SS16 trends, chosen by Petra Barkhof, the deputy editor of kid's wear magazine, with themes such as mark-making, surfaces and materials, botanical, cactus and jungle. This was Kristine's second project at CIFF KIDS, following her impressive installation from the FW15-16 edition called Soft Sculptures.

And here the youngest bloggers I met at CIFF KIDS. More info on them coming up!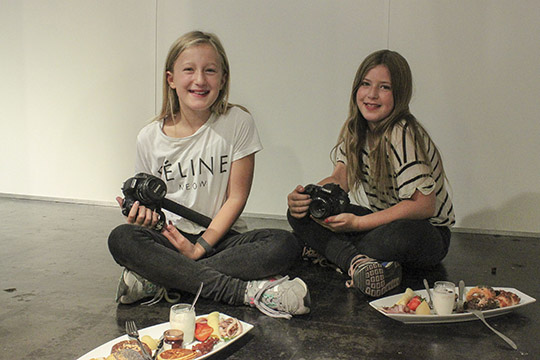 The Fall/Winter 16-17 edition of CIFF KIDS runs February 3 – 5, 2016. ciff.dk